Growing Up Sci-Fi in Garrett Park
door Paul Jeffrey Davids
Over het boek
A critic writes "brims with warmth and riotous fun and rekindles the happiest memories of growing up, this book is pure gold. It reminds us of what's most important to a boy coming-of-age, namely a best friend to laugh with - and there's much to laugh about before earnestness sets in." With almost 300 photos and an astonishingly honest memoir, award-winning Hollywood writer / producer / director Paul Jeffrey Davids (famous for his "Star Wars" books for Lucasfilm and his production work for Marvel on the original "Transformers" animated TV episodes) reflects on his childhood growing up in Garrett Park, Maryland. From childhood he was obsessed with making amateur 8mm science-fiction and monster films in the 1950's and 1960's. This book tells the story of how this Maryland boy ended up making movies in Hollywood for NBCUniversal, Showtime, Starz, Syfy and other studios and networks after being discovered by Famous Monsters of Filmland magazine as a teenager. He is noted for his film "The Sci-Fi Boys" hosted by Peter Jackson, which charts the development of special effects in film from the earliest days through the CGI digital revolution.
kenmerken / functionaliteiten & details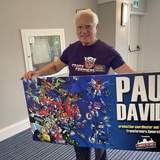 I am an award-winning Hollywood producer / writer / director and book author as well as artist of hundreds of oil paintings. I am best known as co-author of six of the "Star Wars" sequel books for Lucasfilm and as Marvel's Production Coordinator of all of the original "Transformers" animated TV episodes (as well as a writer of some of them). I have produced and/or directed about a dozen feature films, many of which were distributed worldwide to TV by NBCUniversal or Showtime (Viacom). I'm a graduate of Princeton University and the American Film Institute Center for Advanced Film Studies. Blurb offers 7 of my art books as well as my memoir of growing up in Garrett Park, Maryland as an amateur 8mm filmmaker who became known nationally while still a young teenager: Growing Up Sci-Fi in Garrett Park.